Volkswagen Tire Service And Replacement Shop In Brunswick, ME

Your car will need Volkswagen tire service sooner than you think, and when the time comes, you should have an auto shop in mind. Whether you need a whole new set of wheels or you require a rotation or alignment, our certified technicians have the training to complete these tasks quickly and efficiently.
We also offer service specials to save you money so that you can drive away with confidence in your tire purchase. Keep reading to explore our offerings and discover the benefits of Volkswagen tire service at Morong Brunswick Volkswagen.
Buy New Tires at Our Volkswagen Tire Store
There are several reasons why you might find yourself needing new tires. A flat tire, worn threads, or damage to the rubber are all common reasons for requesting a Volkswagen tire change.
Our techs can help you find the right tires for your ride and replace your old ones at our auto shop when you schedule a Volkswagen tire service. You'll want to make sure you equip the right tire, as putting on the wrong set of wheels could cause a serious accident. While you're here, we can also complete your VW oil change to help keep your vehicle in tip-top shape.
We know Volkswagen models inside and out, and we have the expertise to pair your vehicle with the correct set of quality, name-brand tires that will keep you safe and give you an intense grip on every road you encounter.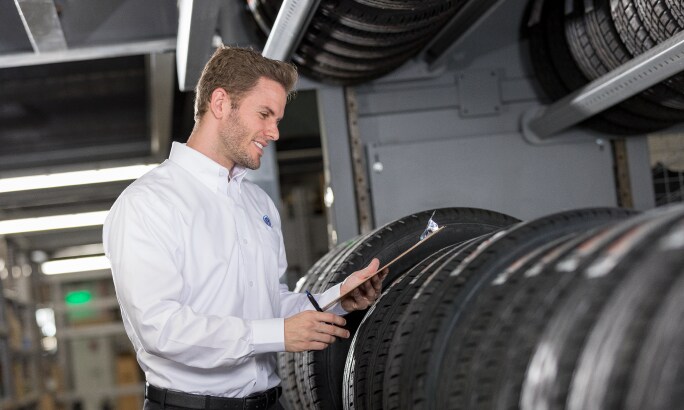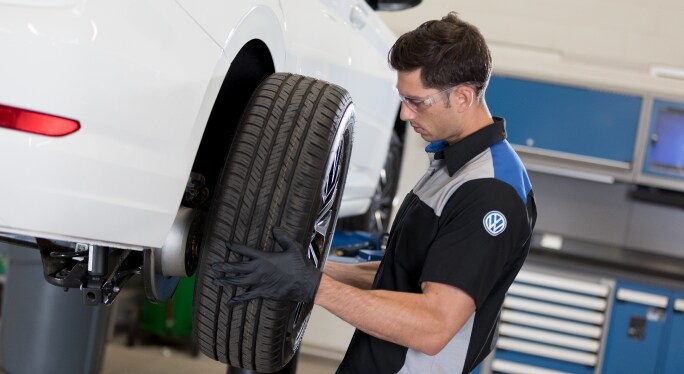 Trust Our Professional Installation, Rotation, and Alignment
Your vehicle deserves top-of-the-line care, and that's just what we provide at every Volkswagen tire service appointment. The certified technicians on our staff are highly trained in the art of identifying tire abnormalities and advising you on what services you need to protect your vehicle.
Based on their inspection, they might recommend a tire rotation rather than a whole new set of tires. It's also possible that you'll find out your car is pulling you in one direction on the road because your wheels are out of alignment. Taking their advice could save you thousands of dollars in repairs, improve your fuel economy, extend the life of your tires, and refine your handling on the road.
Have Confidence in Your Volkswagen Tire Replacement
Your Volkswagen tire service doesn't have to break the bank in Brunswick, ME, and we do everything in our power to help you hang onto your money. We offer a 30-day price match guarantee1 so that you know you are buying a quality set of tires at the lowest prices around. If you find a lower price, bring it to us so we can refund you the difference.
Our Volkswagen tire shop also provides 24-month road hazard coverage1 on eligible purchases. It will give your purchase 100% protection for the first year and 50% protection for the second year. Why would you shop anywhere else when our Volkswagen tire service provides so many amazing benefits?
Schedule for Volkswagen Tire Service at Morong Brunswick Volkswagen
Upgrade your VW model with a new set of tires or one of our other service offerings. Our VW-certified technicians have the training to ensure that your wheels will keep you safe and your car stays in excellent condition.
We also have detailing packages available if you want to give the interior or exterior of your car a facelift. Schedule with Morong Brunswick Volkswagen for Volkswagen tire service today to explore your tire options.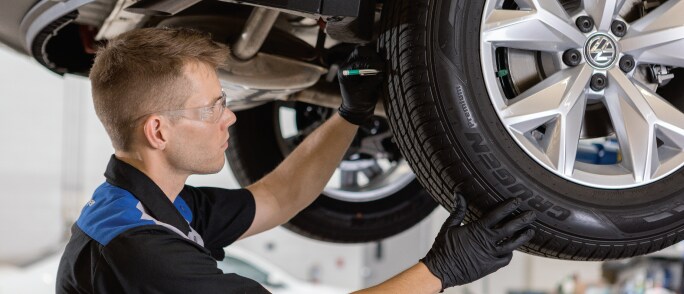 ---
1Please see dealer for details.